Looking for an efficient way to get an overview of a body of research on your topic? A review article is a great place to start.
A review article provides an analysis of the state of research on a set of related research questions. Review articles often:
summarize key research findings;
reference must-read articles;
describe current areas of agreement as well as controversies and debates;
point out gaps in knowledge and unanswered questions;
suggest directions for future research.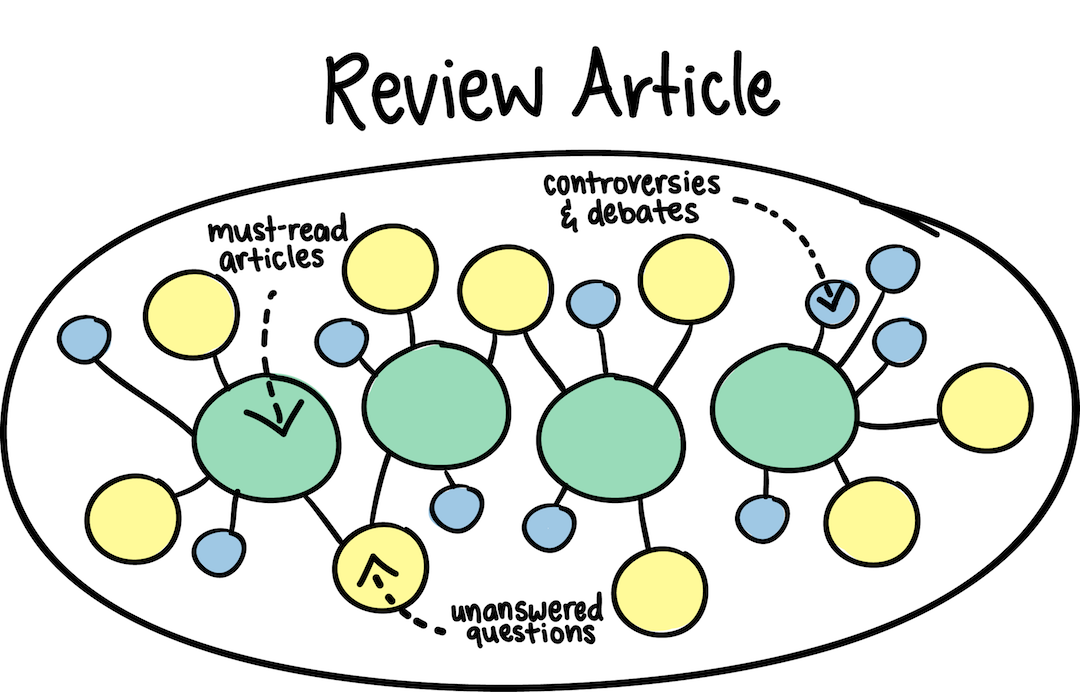 You can use a review article to get a better understanding of the existing research on a topic, to identify research questions you would like to explore, and to find relevant sources. A review article's bibliography often contains references to research articles that have made an impact on the field and advanced understanding of a research topic.
Reading a review article can save you time and give you a more well-rounded and coherent understanding of your topic.
Heads Up!
Unlike typical research articles, review articles do not present any original primary research. For this reason, some assignments may not allow you to directly cite a review article in your paper. However, you can still use the article to get a general understanding of the field and to find important primary research articles.
Also note that for most senior theses in the sciences, the proper place to cite a review article is in the first few paragraphs of your introduction. By placing references to a review article in your early intro, you give your reader a place to go for more information if they are unfamiliar with your field.
Be sure to review the writing prompt and check with your instructor to be sure!
How do I Find Review Articles?
Finding a review article is relatively simple, though it varies slightly depending on what database you are using.
Start with a search in Web of Science.
Then, on the results page, look for the "Document Types" filter on the left side of the page.
Click the checkbox next to "Review" and then click "Refine" to see only the results classified as review articles.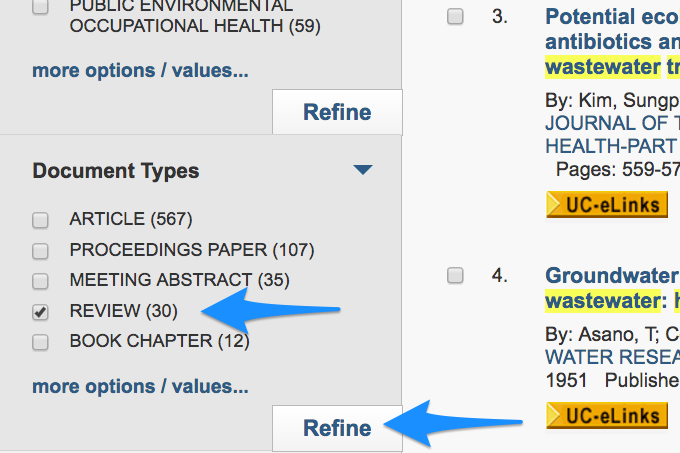 After your initial search in PubMed, look for the "Articles Types" filter on the left side of the page.
Click "Customize..." and then click the checkbox next to review article related filters.
Be sure to uncheck other article types if you would like to limit your search to review articles.
Click "Show" to filter your search results.
From the UCLA Library homepage, click the "Journals" tab to search for academic journals that focus on publishing review articles.
Search for your discipline or subject area, and Review (e.g., Sociology Review or Psychology Review).
Be sure to change the drop-down menu to "Contains"
On the results page, browse the list of journals, and then click on a title to visit the journal's website.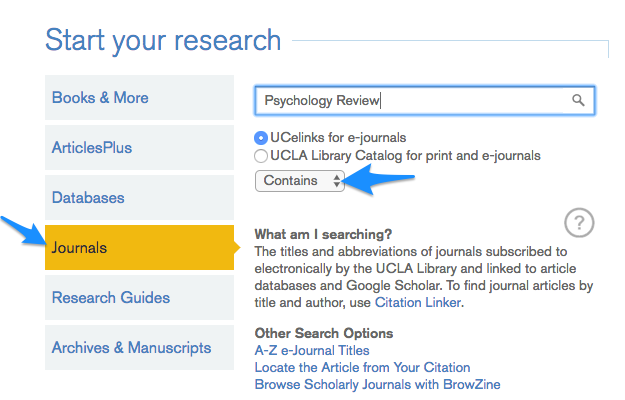 In both Google Scholar and ArticlesPlus you can add review, "literature review", "annual review" or "review article" to your search terms.
Be sure to check that your results really are review articles! See our tips below to make sure.

How do I know if an article is a Review Article or a Primary Research Article?
---
---
Authors
Contributors
UCLA Undergraduate Research Center - Sciences, UCLA Undergraduate Research Center - Humanities, Arts, and Social Sciences, UCLA Undergraduate Writing Center, Doug Worsham
Learning Outcomes
Summarize a review article and its purpose
Find review articles in various databases
Identify signifcant filter terms for searching review articles
Distinguish a review article from a primary research article
Accessibility Information
---
---